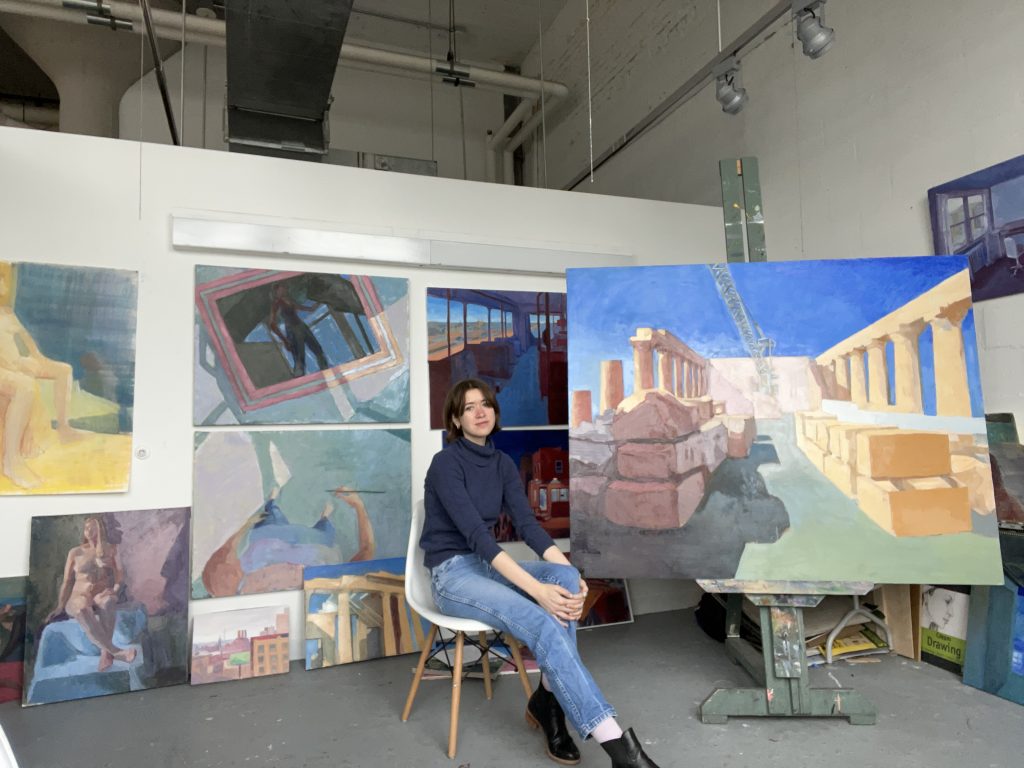 Bio
Anna Hoppel (she/they) is a visual artist based in Philadelphia. She is currently attending the University of Pennsylvania and the Pennsylvania Academy of the Fine Arts, pursuing a BFA in Painting with a minor in Art History. She's experienced in a variety of traditional and digital media and is interested in exploring visual imagery as a method of communication and the relationship between fine arts, academic research, and design.
Anna co-founded a graphic design and social media marketing startup, Mixbie LLC. She is also a Student Exhibition Intern at the Penn Museum. Previously, she worked as a Marketing Assistant at Da Vinci Art Alliance, where she is still an artist member. She was also a member of the ICA student board, a Museum Education Intern at the Fabric Workshop and Museum, and a Digital Studio Assistant at the Arcadia Fine Arts Library.
You can view her illustration and graphic design work here.
Her work is available to purchase through RedDot Culture
Artist Statement
"I'm interested in painting as a means of subjective ethnographic study, an exploration of place formed from my own perceptual experiences. My subject matter includes urban landscape, interiors, portraits, and invented exploration of my own subconscious – often combined in a single piece, and always including thresholds. I work primarily from direct observation of life but also experiment with memory, sketches, photography, and invention, which I consider to be mediated forms of observation.
My compositions focus on highly saturated color relationships and inventively distorted perspective. I dramatically simplify light and space in order to create an overwhelming, immersive experience for the viewer, as well as speak to the narrative of the piece. At the heart of each painting is a series of contrasts: between the figure and the cityscape; interior and exterior worlds; flat color shapes and expressive brushwork; and light and color binaries. These act as pressure points to create rhythm structure and overall energy in each painting."
Press
"Meet Anna Hoppel, the Painter Bringing Motion to a Static Form of Art," 34th Street Mag
"PAFA-Penn BFA Dual Degree Student Anna Hoppel in 34th Street Magazine," PAFA News
CV
Education
2022
BFA Candidate, University of Pennsylvania and the Pennsylvania Academy of the Fine Arts, Philadelphia, PA (Expected graduation: May 2023)
Certificate, Pennsylvania Academy of the Fine Arts, Philadelphia, PA (Expected graduation: May 2023)
2018
Summer Intensive, Pennsylvania Academy of the Fine Arts, Philadelphia, PA
Mindy Flexer Art School, Philadelphia, PA
Solo Exhibitions
2022
Liminal, Atria Center City, Philadelphia, PA
121st Annual Student Exhibition, Pennsylvania Academy of the Fine Arts, Philadelphia, PA
Group Exhibitions
2022
The Space of Yellow, Pennsylvania Academy of the Fine Arts, Philadelphia, PA
Size Matters… In Art!, Pennsylvania Academy of the Fine Arts, Philadelphia, PA
A Good Habit Formed II, Pennsylvania Academy of the Fine Arts, Philadelphia, PA
Family Room, Da Vinci Art Alliance, Philadelphia, PA
Emerging Artists, The Plastic Club, Philadelphia, PA
Portals, Axalta Coating Systems, Glen Mills, PA
Connectivity, The Navy Yard, Axalta Global Innovation Center, Philadelphia, PA
Metamorphosis, FMC Tower, Philadelphia, PA
Through the Grid, Da Vinci Art Alliance, Philadelphia, PA
2021
Perennial Visions III, Da Vinci Art Alliance, Philadelphia, PA
Pet Dreams: Part II, Pennsylvania Academy of the Fine Arts, Philadelphia, PA
Art from Art, Pennsylvania Academy of the Fine Arts, Philadelphia, PA
2020
Order of Everyday Humans Distinguished Medals Project, ArtYard Center, Frenchtown, NJ
Rotoscope Animation, Pennsylvania Academy of the Fine Arts, Philadelphia, PA
2019
Human Animal Hybrids, Pennsylvania Academy of the Fine Arts, Philadelphia, PA
Awards
2022
The Rubens Travel Award, Pennsylvania Academy of the Fine Arts, Philadelphia, PA
The Thouron Prize, Pennsylvania Academy of the Fine Arts, Philadelphia, PA
The Catharine Grant Memorial Prize (Honorable Mention), Pennsylvania Academy of the Fine Arts, Philadelphia, PA
The Fine Arts Venture Fund Grant Recipient, Pennsylvania Academy of the Fine Arts, Philadelphia, PA
2021
Hulda Bender-Kerner Award, Pennsylvania Academy of the Fine Arts, Philadelphia, PA
2019
Dean's Award, Pennsylvania Academy of the Fine Arts, Philadelphia, PA
President Undergrad Award, Pennsylvania Academy of the Fine Arts, Philadelphia, PA
Francis M. Maguire Award, Maguire Foundation, West Conshohocken, PA
D. Colman Witte Scholarship, Philadelphia Foundation, Philadelphia, PA
Related Experience
2022
Student Exhibition Intern, Penn Museum, Philadelphia, PA
Co-Founder, Mixbie LLC, Philadelphia, PA
Marketing Assistant, Da Vinci Art Alliance, Philadelphia, PA
Member, ICA Student Board, Philadelphia, PA
2021
Museum Education Intern, The Fabric Workshop and Museum, Philadelphia, PA
2020
Digital Studio Assistant, Pennsylvania Academy of the Fine Arts, Philadelphia, PA
Library Circulation Assistant, Pennsylvania Academy of the Fine Arts, Philadelphia, PA
2019
Installation Volunteer, Tape Philadelphia: Enter The Cocoon, Group X, Philadelphia, PA